Auckland International College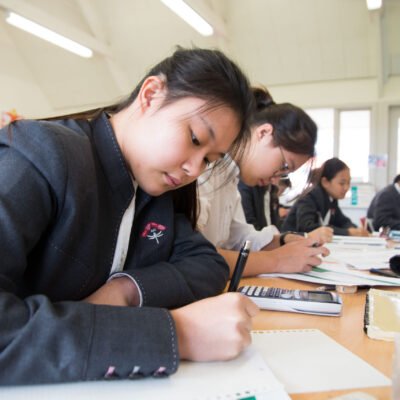 Auckland International College (AIC), an International Baccalaureate (IB) World School is excited to announce that we will offer a suite of Cambridge IGCSE qualifications from January 2022. Cambridge International General Certificate of Secondary Education (IGCSE) are well known around the world with 10,000 schools in over 160 countries offering the qualification.
Here at AIC the two-year IGCSE course will be taken in Years 9 and 10. Students will take English, Maths, Coordinated Science, History through Global Perspectives, Geography and Economics over two years. Students will finish with seven IGCSE grades, as the Coordinated Science is a double award course, and be ready to enter the AIC Preparation Programme for the IB Diploma, which AIC has operated since 2003. This six-month bridging course will students to combine the knowledge gained from their Cambridge IGCSE's with the inquiry-based learning style that the IB curriculum demands.
This strong university pathway, starting with the Cambridge IGCSE's will suit highly motivated, focussed students who are looking for a significant academic challenge at a slightly earlier age than traditionally. Students will probably be thinking about attending top universities overseas after completion of their IB Diploma studies and AIC is the perfect place to fulfil this aim with our dedicated university applications support team who work with students and parents from the day they arrive often until after they have graduated.
Regardless of a students' university aspirations, the combination of IGCSE's, our Preparation Programme followed by the IB Diploma will set them up for success when entering any higher education establishment anywhere in the world including New Zealand and Australia.
Please contact the college for more details and an enrolment pack if this sounds like the pathway for your child.